Title: Fearless
Series: Pier 70 #2
Author: Nicole Edwards
Genre: Adult, M/M Romance
Published: April 11, 2016
He's the one who walked away...
Dare Davis, one of the four owners of Pier 70 Marina, has been living the past fifteen years of his life not taking risks. He considers himself fearless because he refuses to let anyone close enough to hurt him. He's had his heart broken before, he's not looking for it to happen again.

He's the one who let love slip through his fingers...
Noah Pearson, thirteen-year veteran of the Austin Fire Department, finds himself being roped into a favor by his mischievous stepsister. When Milly invites him to come along on a cruise to the Caribbean, he finds himself giving in. What he doesn't know is that Milly's playing matchmaker. However, Milly's surprise backfires when Noah finds himself front and center with the man who slipped through his fingers fifteen years ago.

Some people believe in second chances.
Things heat up when the mischievous, fun-loving bad boy comes face to face with this smoking hot fire fighter.

Now that Dare and Noah find themselves sharing a room on a week-long cruise, can they find a way to keep the peace and ignore their past? Or – thanks to the decisions they made long ago – will they come full circle, picking right back up where they left off?



Fearless Excerpt © Nicole Edwards 2016


Getting out of that cabin was the only option Dare had. That or he was going to strip Noah naked and ride him until the sun came up. Or vice versa. He didn't really care which. Okay, yes, he did, but now was not the time for that. He needed to gather his thoughts.
Plus, he needed to return Roan's key and let him know that he wouldn't need a place to crash after all.
Then he needed to find food.
God, he was starving. He hadn't eaten much at the reception because he'd been too nervous. But even if he had, he would still be hungry. That was how he rolled.
By the time they emerged from their cabin, it seemed most of the other cruise-goers had called it a night. The halls were deserted, as was the main deck, where they ended up after making a quick pass through the casino and then deciding against any more gambling for the evening. As it was, the wager between them was steep enough. Dare knew he didn't have anything else to bet.
So he settled for pizza and soda, which they devoured outside.
For the next hour, they walked around, close but not too close. When he yawned for the third time, Noah suggested they head back, and Dare reluctantly agreed.
He was edgy, he couldn't deny that. Although they were alone out here—for the most part—being alone in their cabin was decidedly different. No one could happen upon them in there, which meant their clothes could fall off. And then he could… What if he tripped and his dick slipped right into Noah's mouth? That could be awkward.
Well, the last part wasn't too bad of an idea, provided it didn't result in any damage to his dick.
However, that wasn't going to happen tonight. Not on purpose and not by accident.









New York Times bestselling author Nicole Edwards launched her professional writing career in July of 2012. Having been an avid reader all of her life and a huge fan of creative writing, it seemed the likely path for her to take. Since then, she has released fifteen books and has no plans to stop. As her full-time career/hobby, Nicole writes steamy contemporary and erotic romances.

Nicole is a New York Times and USA Today bestselling author who was born and raised in Texas. Married with three kids and four dogs, she has plenty of interaction to keep her imagination brewing. Her books have been featured in USA Today's Happy Ever After segment as well as Indie Reader's best seller list. She has forged her way as an independent author.

Although she has a bachelor's degree in Human Resources, she prefers to be hiding out in her writing cave, talking to the fictional characters that have built up in her head over the years.

When she isn't writing or plotting her next book (sometimes translated to "playing on Facebook"), Nicole loves to read and spend time with her family and her dogs.
Hosted By: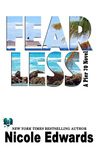 Pier 70 is about a group of men owning and running a marina. Fearless is Dare's story, but it also features the rest of the gang. It's all about relationships including romances, friendships and families. To me it felt a little deeper than book 1, but I would still consider it a fairly light read.
Dare and Noah were a young couple 15 years ago. Things didn't end well for them. After not crossing paths since their breakup, they end up on a cruise ship as part of the same wedding party. Both men go through a bunch of feelings including regret, denial, anger, longing, desire, etc. They are the one that got away to each other, but they both have some baggage from when they separated to get over.
While Dare and Noah are trying to let what they had go or find a way to start again, they have several fun and sexy moments. The rest of the wedding party is busy getting into things too. I must mention Dare's grandmother. She made me smile with her frank way of speaking whatever is on her mind.
This wasn't a mind blowing story for me, but it's the kind that hits the spot perfectly if you're wanting some sweet, sexy, fun romance. I liked this one more than book one. It has a little more pep, and I've gotten to know the characters better. Yes, I recommend it.