A KNIGHT IN TARNISHED ARMOR, IS STILL A KNIGHT.
Emma Chase, whose super-sexy and smartly funny Tangled series made her a bestselling sensation, returns with the second installment of the Legal Briefs series—where high-powered attorneys compete
for the upper hand in the courtroom . . . and in the bedroom.
When you're a defense attorney in Washington, DC, you see firsthand how hard life can be, and that sometimes the only way to survive is to be harder. I, Jake Becker, have a reputation for being cold, callous, and intimidating—and that suits me just fine. In fact, it's necessary when I'm breaking down a witness on the stand.
Complications don't work for me—I'm a "need-to-know" type of man. If you're my client, tell me the basic facts. If you're my date, stick to what will turn you on. I'm not a therapist or Prince Charming—and I don't pretend to be.
Then Chelsea McQuaid and her six orphaned nieces and nephews came along and complicated the ever-loving hell out of my life. Now I'm going to Mommy and Me classes, One Direction concerts, the emergency room, and arguing cases in the principal's office.
Chelsea's too sweet, too innocent, and too gorgeous for her own good. She tries to be tough, but she's not. She needs someone to help her, defend her…and the kids.
And that—that, I know how to do.
N
1 finished copy of
Sustained
open to residents in the US and Canada
a Rafflecopter giveaway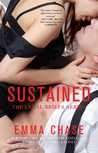 4.5 stars
Emma Chase is a master of romance novels. Sustained has lots of feels, humor, ups and downs.
Jake knows what his priorities are. He's on the fast track to making partner and one of the best attorneys around. He has a very active sex life with the mindset that it can never go beyond hook ups. He has time for a few close friendships, but the rest of his focus is carving out his spot in D.C.
Chelsea was in college in California when her brother and sister-in-law died in a car wreck. They left behind six children. She leaves the college life behind and moves to D.C. to be a full-time guardian to her nieces and nephews.
Jake accidentally gets caught up with this family. Everything that happens is beyond his usual comfort zone and is told from his point of view so it's pretty comedic. It's also very touching. The reader learns of his past and of his internal struggles. The children also serve up a great deal of the fun. His dealings with the children was grande. I fell for Jake. He's the total package, but eventually he has to make a decision about what type of life he really wants.
If you're looking for a sexy romance staring a large man covered in tattoos under his custom suit served with humor and heart you've found it.
***copy given in exchange for an honest review***
toni