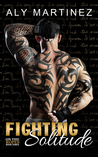 4.75 stars
I've loved this whole series. The Page brothers truly are something special, and as Q states, they know how to love.
I really like how the story of Liv and Q is complete. We get all the way back to the first meeting as kids, the HEA and all the ups and down in between. Liv and Q are cute partners in crime as kids. Both had tragic beginnings with their parents and home life, which left them a little damaged. A friendship between them just clicks. Teenage heightened emotions including hurts and insecurities cause disruptions, but despite distance and time, their connection is permanent. As adults they have to overcome more loss and indecision on the way to seeing if their relationship can become something more. Grown up Q is so sweet and sexy. I adore him. I felt every emotion these two endured.
It's like my heart wants to take off soaring out of my chest to see these three brothers stories all fall into place, and getting updates on all the others in this book is like the icing on the cake. Fighting Solitude is a perfectly great standalone, but if you read the series, you get the full emotional impact. The ending section from everyone is a real my cup runneth over deal for me.